In addition to records, we have a few artefacts in our collection. Today I'd like to introduce you to one of our artefacts from the Children's Union.
As a fundraising body that was supported almost solely by children, the Children's Union had a number of ways to promote the work of The Children's Society and encourage children to make donations.
One of these ways was to give out medals to Children's Union members in recognition of their support. Often these medals had to be earned by the members completing certain tasks.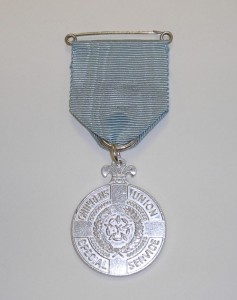 There were a few different types of medals that were given out by the Children's Union over the years. The medal above was designed in 1910 by Sir Nevile Rodwell Wilkinson, husband of the president of the Children's Union, Lady Beatrix Wilkinson. This medal was given out for 'special service', and members could earn one of these by attracting six or more new Children's Union members or helping to raise £20 for the Children's Union.
The special service medals were used during a large part of the life of the Children's Union. We have a number of examples in our collection, including some that appear to have been made as late as the 1970s, shortly before the Children's Union was disbanded.
It's easy to imagine that these medals would have been a large incentive for the members of the Children's Union, and that the children who received them would have been very proud to get recognition for their hard work.