Here we have a guest post written by one of our archivists, Gabrielle St John-McAlister.
***
In previous posts we have read about St Nicholas' Home in Tooting being the first of The Children's Society's homes for disabled children. In this post I wanted to give a bit more detail on what was a momentous occasion in The Children's Society's history. What with 2012 being a Jubilee year, it is interesting to see that good deeds were done to mark another, much earlier, Jubilee of a well-loved monarch.
To commemorate Queen Victoria's Golden Jubilee, in May 1887 The Society set up a fund to establish and endow a home for disabled children. This became know as St Nicholas' Home, Tooting. As the Case Committee frequently saw children in need of surgery and surgical appliances, and because The Society had great difficulty in providing appropriate care, they felt strongly that there was a clear need for a home which could meet the real needs of disabled children.
The appeal was so successful that within six months Talgarth House on Trinity Road, Tooting, had been leased. There was a huge amount of goodwill towards the endeavour in the area: a number of local physicians offered their services free of charge as honorary medical officers and a Miss Anne Anderdon promised £100 per year to meet the home's rent and taxes.
The next step was to renovate and fit out the premises, and gifts of beds, bedding, pictures and fireguards were sought. By December 1887 enough gifts had been received for St Nicholas' Home to open, with the official opening and dedication taking place in February 1888. The text below, taken from The Society's supporter magazine 'Our Waifs and Strays' in 1888, gives some more information about the public opening of the Home.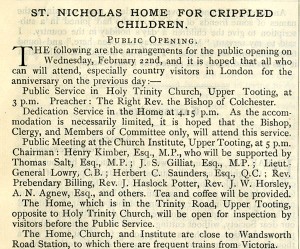 Further information about St Nicholas' Home in Tooting can be found in the homes section of Hidden Lives Revealed.