The Unexplored Riches in Medical History project is currently being supported by eight enthusiastic volunteers who kindly give their time to help conserve and preserve the oldest and most delicate of the children's case files.
Click here to read more about the case file conservation process.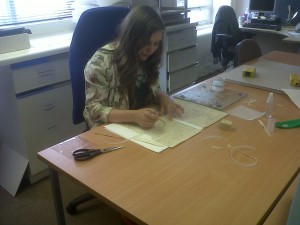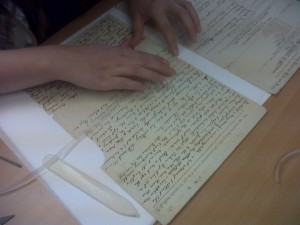 In today's post, several of the volunteers explain what it is like to volunteer here at The Children's Society archive and tell us more about what they've been doing.
'The first part of the job is removing the case file contents from their pale blue linen envelope – sometimes, they are so tightly packed this can be a bit of a struggle.'
'Once the items have been removed, I clean them with a chemical sponge and a soft brush, place them in between clean blotter and retain the original order of the items as found.'
'Whilst cleaning I inspect for damaging materials such as metal paper clips or rubber bands as well as unstable documents such as acidic, brittle paper and torn postcards.'
'Any document that is in a bad condition and cannot be flattened or is badly torn may be humidified or repaired.'
'Each item is then flattened under weights for a few days, before being packed into a new file folder, tied with cotton ribbon and boxed.'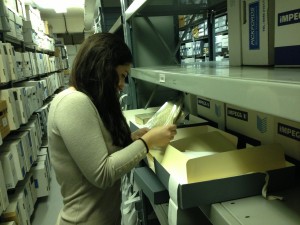 When asked what they enjoyed most about volunteering, many of the volunteers agreed that the highlight was the case files themselves.
'[I enjoy] getting a feel for some of the cases and the individuals involved, with some fascinating insights into social history.'
'I find the case files fascinating to work on. […] They are only individual peeks in to a wealth of an archive, but it has inspired me to look in to my own family history.'
'The most exciting part of working with case files must be removing the items from the envelope, because you will never find a repeat one and each of them contains a different story.'
'There is a great satisfaction in knowing you have helped preserve somebody's history as well as making a small contribution to the cleaning of such a vast amount of case files and making them accessible.'
'The most rewarding aspect is probably the sense of achievement that comes from knowing that the case files are now going to survive for much longer thanks to the preservation and conservation work that we're doing. And knowing that in the future researchers will be able to access the information the files hold much more easily is very satisfying.'
It's not always easy though. The delicate condition of some of the case files often poses problems.
'[The most difficult part is] avoiding tearing documents when cleaning.'
'Personally, I find handling and cleaning the variety of different types of paper quite challenging, as it requires different levels of accuracy with the cleaning sponges and you could lead to damaging the works more.'
'[The most challenging part] must be to clean some documents which are of poor condition.'
'I find the assessment of a document the most testing. For example, if I miscalculate the stability of a papered document and put it under the strain of pressing, the piece could split and cause irreversible damage.'
Despite the challenges posed by the fragile state of some of the documents, the project is progressing well, thanks to the help of our volunteers.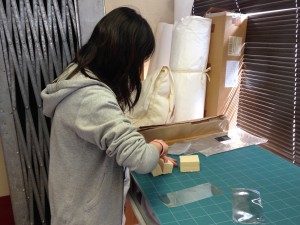 The team of volunteers is a varied one, with some currently studying for courses in paper conservation, some retired, and some wanting archive experience. This means that they each have different skills and interests that they can bring to the project.
'[My motivation for volunteering here was] a combination of wanting to contribute to a worthwhile organisation and looking for a new experience with social contact.'
'Volunteering is an important asset for a conservator, as through this experience you are allowed to observe and work with people of our profession and more, develop old and new skills, as well as learn new techniques.'
'To work alongside professionals at such close quarters is an important aspect for my development as a paper conservator.'
'Because the tasks that I've been doing as a volunteer were so well defined I was able to start doing useful work right from the very first day. Everyone has been very friendly and helpful. Also, knowing that I'm going on to study archives, everyone has taken the time to explain more about what they do, which has been great.'
'It's been a really great learning experience. I've learnt more about how to handle documents correctly, about preservation problems and conservation techniques, and also started to get a feel for how the archives and records fit within the organisation.'
I would like to take the time to say thank you to all our volunteers, not only for their help with the case files, but also for kindly answering my questions for this post.
Here in the archive we're lucky to have the dual benefit of eight extra hands to help preserve our important case files for the future, plus eight friendly people to help to make the office a brighter place!