Today, instead of focussing on a particular child we will be focussing on a particular parent. The case files we hold give the family circumstances of most of the children that came into The Children's Society's care and so can go into a lot of detail about the health of the child's family.
Charlotte came into the care of The Children's Society (then known as the Waifs and Strays Society) aged 7 in 1895. As with all children that came into The Society's care, an application form was written for Charlotte detailing why it was thought necessary for her to go into care.
The form states that Charlotte and her family came from Marylebone in London. Her father had been a chimney sweep but had died of bronchitis when Charlotte was around three years old.
The second page of the form, shown below, continues the story.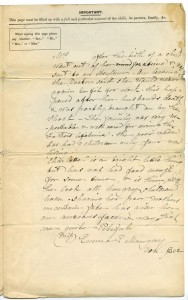 Mrs. [surname] after the birth of a child
went out of her mind for a time & was
sent to an Asylum. On leaving,
the Doctor said she would never
again be fit for work. this hap-
-pened after her husbands death
& was partly brought on by the
shock. The family was very res-
-pectable & well cared for during the
Fathers lifetime. the poor widow
has had 9 children only four now
living.
"Charlotte" is a bright little thing
but has not had food enough
for some time, & is thin, with
the look all hungry children
have. sharing her poor mothers
uncertain fate has given her
an anxious face & way, that
are quite Pitiful
(Miss) Emma E Maingay
Hon. Sec
Elsewhere in the form, we learn that the child's mother was doing light housework as an occupation and that she and Charlotte had no settled place to live.
This form illustrates quite clearly what could happen to a late-Victorian family if the parent or parents were unable to do much work due to an illness or disability. With few safety nets around, save for the workhouse, parents and their children had to struggle to find enough to eat.
Charlotte's case was accepted by The Society and she went to live in St Hilda's Home in Marylebone. A few months afterwards she was transferred to a home that wasn't operated by The Society, St John's Convalescent Home in Brighton. At this time The Society had no convalescent homes of its own and so often sent children to St John's Home if they were unwell and needed extra care.
The reason that Charlotte needed to go to a convalescent home isn't stated, but it seems likely that she was suffering from malnutrition; in other letters in her file she is described as being 'delicate' and like a 'little white ghost'.
After two years at St John's Home, Charlotte must have been strong enough to return to one of The Society's children's homes, this time the Brighton Home for Girls. Charlotte stayed in Brighton until 1903 when she would have been around 15 years old. At this point, a letter from Charlotte's sister Louisa was received.
Louisa was about eight years older than Charlotte and was married and living in East Barnet near London. She asked if Charlotte could come to live with her; this was agreed and Charlotte went to her sister a few weeks later.
Within the file, we never find out what had happened to Charlotte's mother after Charlotte was taken into care, as Louisa doesn't mention her. We can only hope that she was doing well, although her previous circumstances didn't bode well.
At this distance, it is very hard to discover what condition Charlotte's mother was suffering from that had required her to enter an asylum for a period of time. As with a number of diseases, the diagnosis of mental health conditions in the late-19th Century was not as sophisticated as it is today. All we can do is go by what we're told: Charlotte's mother's illness had been brought on by the shock of her husband's death and perhaps by the birth of a child; it had left her unfit for work; and, according to one doctor, 'she would never be the same woman again'.
What is clear is that she left the asylum with little assistance, despite finding it difficult to work, which meant that being able to care for herself and for Charlotte was an almost impossible struggle, and perhaps one that she was unable to survive.