In a previous blog post I talked about our volunteers who are helping to conserve the children's case files. Today it's the turn of our volunteers who are helping to research into and document the medical information in those case files. Starting in the middle of last year we've had five volunteers and one work-placement student helping with this research task, and together they've unearthed a large amount of medical information, which has now been documented in CALM, our catalogue database.
But that's enough of me talking; here's what the volunteers have to say themselves:
"The majority of my time involves working with and handling the case files, which go back to the 1880s! Our job is to extract medical notes and information from the case files in order to build up an online database of medical conditions that the Society dealt with."
"I extract pieces of information from the case files and upload the information onto CALM where all the records are kept. For instance, if a record on CALM says a child went to Hospital; my role is to try and find out why that child went to Hospital. Once I have found the information needed I update it onto CALM."
"By going through the correspondence and other documents contained in each case file, it will (hopefully!) become apparent why each child's stay in a hospital or convalescent home was deemed necessary. This information is then added to the 'case history' section of the case file's CALM record, along with relevant medical index terms. The index terms are taken from archival thesauri to ensure that they are the most suitable names for medical conditions and help researchers find the records they are interested in."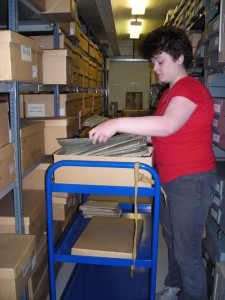 The volunteers are a diverse and motivated bunch. I asked them why they wanted to volunteer with us:
"I felt that I needed some work experience in a history related job and I discovered The Children's Society was offering this wonderful opportunity to archive medical documents from the 19th century. I was motivated to apply for the volunteering as it seemed such an interesting role and I thought it would be great to volunteer for such a prestigious organisation."
"I've always thought that we have a lot to learn from history and projects such as this are invaluable in teaching us about people and disease. I jumped at the chance to learn from hundred year old documents, many of which have remained untouched!"
"I'd helped out TCS [The Children's Society] with street collections previously and happy to contribute to a good cause."
"I was hoping to broaden my experience of archives prior to applying for paid work and postgraduate course in archives. Learning about indexing on CALM is a valuable accompaniment to the cataloguing skills which I have acquired in other voluntary roles."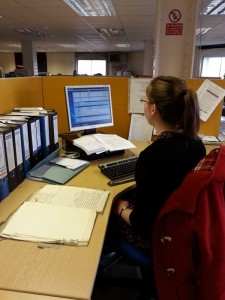 This project isn't always easy. For some volunteers the most challenging part is the condition of the documents. Our conservation team is doing a stellar job of making the files easier to handle, but those documents that haven't been conserved yet can be tricky to use.
"You have to be flexible when dealing with the case files. From one minute to the next you can be looking at completely different files – some have mould, some are in newer formats, some are small – and you have to respond respectively."
[The most challenging part of the role is] "Handling some of the files which are in poor condition."
For other volunteers, the handwriting and the language from 100 years ago can take a bit of getting used to. It seems like some doctors' handwriting is hard to read no matter when it was written!
"The variety of handwriting and how sometimes letters can be difficult to read make this the most challenging part of the role."
"The most challenging aspect of the role is trying to read the documents correctly. The majority of the documents I read are hand written, so it takes time and focus to read the documents accurately and find the relevant information."
"Another minor difficulty which I occasionally face is encountering antiquated names or spellings for illnesses, which can make decisions about indexing the case files more tricky."
And then there's the information in the files itself, which can be very moving at times:
"Inevitably, given the medical nature of the project, there are some case files which detail sad stories of children suffering and dying from diseases. It is notable how many children a century ago were afflicted with conditions such as tuberculosis and scarlet fever, which are much less prevalent in Britain today due to advances in medical technology and people's living conditions."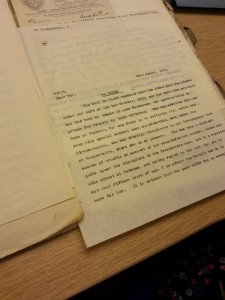 Thankfully, despite the difficult parts, the volunteers have been finding the project enjoyable:
[I've enjoyed] "Getting an insight into the lives of the poor and disadvantaged 100 years ago."
"One of things I love most about my role is that no one day is the same as you deal with different children's case files who have their own unique personality and life. Moreover, as I am currently studying modern British History, the case files really bring history to life as there is real life evidence of a number of things I have studied."
"It is also rewarding to come across positive stories recorded in the case files, when children have overcome medical problems. A memorable example involved a boy who, having already been in hospital frequently, was accidentally hit in the eye by some putty thrown out of a window by a builder. Despite this incident permanently damaging his eyesight, he was still able to find a job and work successfully in The Children's Society head office a few years later."
"I have enjoyed learning about the lives of the children that were under the societies care and getting a glimpse of what life was like for them at the time."
"I have enjoyed handling the documents and reading peoples' personal histories. I have found reading documents that are nearly 100 years old something quite special and rewarding."
"I have really enjoyed working with the Society. Before I started I knew little about the Society's history or the work it does today. Handling original case files has been a fascinating window onto decades of social history and the role the Society has had in it."
Many thanks to the volunteers for taking the time to answer my questions and, not least, for being such a great asset to this project! Thanks to their help, our knowledge of the medical information in our collection is coming on in leaps and bounds.
If you would like to learn more about volunteering for The Children's Society, please take a look at our volunteering pages.