Today we have a guest post written by one of our project volunteers, Leonora Fane-Saunders.
***
Some of the most interesting documents found in the case files are letters written by the children in care to family and friends. They reveal much about life in the homes and about a child's interests, talents and character.
Edward Gurt was eight years old when an application to The Children's Society (then the Waifs and Strays Society) was made by Miss Bessie Peacock, the former employer of Edward's mother. Edward's father had died, which left his mother struggling to support him.
On the twenty fifth of March 1907 Edward was initially admitted into St Martin's Home for Crippled Boys, Surbiton, Surrey, due to talipes varus, a congenital deformity of the foot. However, after to a successful operation, Edward was deemed fit for an ordinary home and was transferred first to the Islington Home in London and then to St Michael's Home in Chislehurst, Kent.
Little is heard about Edward until May 1911 when there is a letter from the head teacher of his school stating that Edward suffered from a heart condition and poor eyesight and would not be allowed to return to school until a doctor pronounced him fit to. As a result Edward was transferred to the Devon House Home in Margate, Kent; this home wasn't run by The Society, but it specialised in looking after 'delicate' children. It was from here that he wrote two very interesting letters to his mother.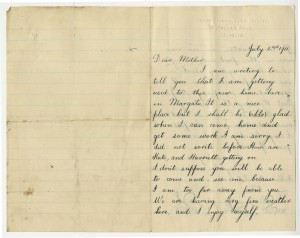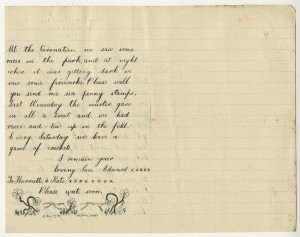 July 2nd 1911.
Dear Mother,
I am writing to
tell you that I am getting
used to this new home, here
in Margate. It is a nice
place but I shall be (able) glad
when I can come home and
get some work. I am sorry I
did not write before. How are
Kate, and Harriett getting on.
I don't suppose you will be able
to come and see me, because
I am too far away from you.
We are having very fine weather
here, and I enjoy myself.
At the Coronation we saw some
races in the park, and at night
when it was getting dark we
saw some fireworks. Please will
you send me six penny stamps.
Last Wednesday the master gave
us all a treat and we had
races and tea up in the field.
Every Saturday we have a
game of cricket.
I remain your
loving Son Edward xxxxx
To Harriett & Kate xxxx xxxx.
Please write soon.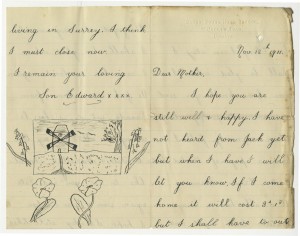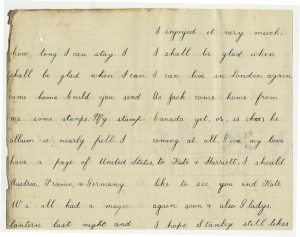 November 12th 1911.
Dear Mother,
I hope you are
still well & happy. I have
not heard from Jack yet
but when I have I will
let you know. If I come
home it will cost 3s 1d
but I shall have to out
how long I can stay. I
shall be glad when I can
come home. Could you send
me some stamps. My stamp-
-album is nearly full. I
have a page of United States,
Austria, France & Germany.
We all had a magic-
lantern last night and
I enjoyed it very much.
I shall be glad when
I can live in London again.
As Jack come home from
Canada yet, or, is (his) he
coming at all. Give my love
to Kate & Harriett. I should
like to see you and Kate
again soon & also Gladys.
I hope Stanley still likes
living in Surrey. I think
I must close now.
I remain your loving
Son Edward xxxx.
These letters reveal a budding artist and avid stamp collector who may be a little home-sick and missing his family. They show he has a tendency to write in dialect: as instead of has. The letters also depict a little of what life was like for Edward and the other boys in the Margate Home. It is clear that sports were encouraged in the form of a weekly cricket game. A picnic and a magic-lantern (an early projection system and forerunner to movies) were provided as treats for the boys. Interestingly, these letters mostly describe special events in Edward's life, such as the fireworks in celebration of the coronation of King George V.
Sadly due to Edward's heart condition The Society found it difficult to obtain either training or a job for him. After several fruitless enquiries Edward was eventually returned to his mother in 1912. No further information is given in his file, which leaves us wondering if he ever built up the artistic talent shown in those letters.