Did you know that the Wellcome Trust gives out research bursaries of £5,000 to £25,000 to fund research into collections, like The Children's Society Archive, that have received Wellcome Trust funding previously?
Click here to find out more about the Wellcome Trust's research bursaries.
Our Wellcome Trust-funded Unexplored Riches in Medical History project here at The Children's Society will be coming to an end in the next few months, and we've done so much since we started. We have catalogued and conserved thousands of records that can be used to study medical history. Soon our catalogue will be online for you to search and see what we have for yourself.
And this is where you come in. At the moment our medical history records are an untapped resource, crying out for research. We didn't call these records 'Unexplored Riches' for nothing; they now need to be explored further! A quick browse through this blog will show you just some of fascinating things that you could find in the collection, but that really is just the tip of the iceberg.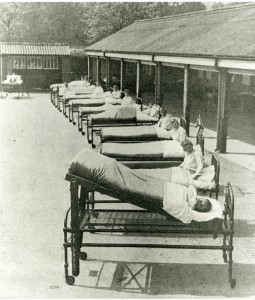 Thanks to the Wellcome Trust's research bursaries, you can give your research the financial help you need. The bursaries will fund academic research using collections like ours, and it doesn't have to be historically grounded research either. If you're not an academic, the bursaries will also fund work in the creative arts, whether you're an artist, writer, performer or broadcaster wanting to use our collection.
So what medical history sources do we have? Check out these links:
Our records can be used to research many things, but some of our strengths include:
Children's health
Victorian and Edwardian healthcare
Diseases of poverty
Contagious diseases
Orthopaedic conditions
Historic medical treatments
Charities and pre-NHS healthcare
Sanitation
Vaccination
Diet and nutrition
Will you be at the forefront of discovering what our medical history records have to offer? See the Wellcome Trust's website for more details on how to apply for a research bursary.
If you have questions about the bursaries or about using our collections for research, please email us at: Hidden-Lives-Revealed@childrenssociety.org.uk