As we are coming up to the Queen's Diamond Jubilee, today I have decided to highlight just one of the links to the Royal Family that can be found within our collections.
St Agnes' Home in Croydon was a children's home that took in disabled girls, aged 14 and above. The home focussed on teaching the girls manual skills such as knitting, basket weaving and needlework.
In March 1914, the home was visited by Queen Mary, wife of King George V. Then, a few weeks later and shortly after the seventeenth birthday of the Queen's daughter, Princess Mary, a letter was sent to St Agnes' Home from Buckingham Palace. The letter states:
Madam,
I am commanded by The Queen to send Princess Mary's Birthday Cake to St Agnes' Home & Hostel Croydon.
The cake was sent to the home the next day. In order to eat it, a special tea party was held for the all the girls at the home.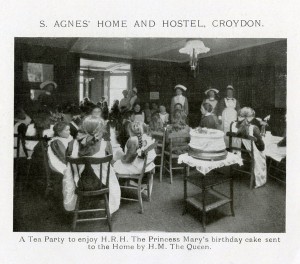 The above photograph, taken from the 1914 Children's Union annual report, shows the girls at the home, ready to enjoy their tea party.
This may have been one of the more unusual donations that have been made to The Children's Society over the years, but it is easy to imagine that it went down very well with the girls in the home.
Further information about St Agnes' home can be found in the homes section of Hidden Lives Revealed.