Today is the 50th anniversary of The Children's Society's first ever Christingle Service.
The concept of Christingle was adopted by The Children's Society in 1968 and the first Society Christingle service took place in Lincoln Cathedral on 7th December. Only 300 people were expected but as many as 1500 attended the celebration.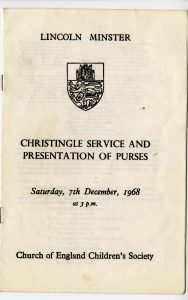 The Christingle service has its origins in the Moravian Church and dates back to 20th December 1747 in Mairenborn, Germany.
The language used to describe a Christingle has changed over time, but fundamentally a Christingle is a candle set into an orange, representing the world and Christ respectively. A red ribbon is tied around the orange, representing the blood of Christ. Fruit and sweets on four cocktail sticks are also set in the orange, representing the four seasons and God's love in providing the fruits of the earth. This service was performed in local churches all over Moravia when families would gather together at Christmas time.
In 1969 seven services were conducted and in 1970 around 18 were held. According to The Children's Society's supporters' magazine, Gateway, in 1970:
"The services are suitable for all the family. They include Advent hymns and carols, prayers for our work, and a purse presentation by children of the diocese. Children go forward to receive Christingle oranges and the Christingle hymn or carol is sung by the light of these alone."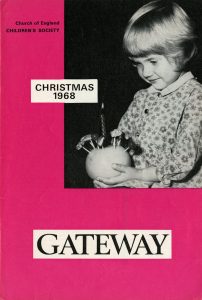 In 1989, The Children's Society celebrated its 21 years of Christingle services with special events in Coventry Cathedral and York Minster. A giant Christingle was lit, and from this further Christingles to carry the flame from one location to the next.
By the 1990s, many thousands of Christingle services were taking place in every type of church in villages, towns and cities across the UK. These provided an opportunity for congregations to think about children and young people helped by The Children's Society and to offer prayers and gifts to further their work.
In 1997 The Children's Society celebrated the 250th anniversary of the Christingle tradition. An event was held at Liverpool Cathedral to mark this occasion, while a record number of services and supporters – over a million adults and half a million children – took part in the Christingle celebrations for 1997, helping to raise £1.2 million.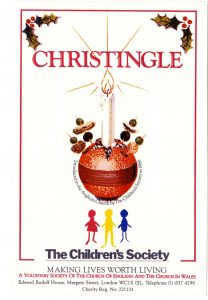 Christingle services are still held by the Society each Christmas and it has come to be one of the most popular events in the Church calendar. The benefits which Christingle has brought to the Society are immeasurable, not only in terms of the huge amount of donations that have been presented over the years, but also in terms of the enthusiasm, inspiration and joy which these services generate among those taking part.
For more information about Christingle Services see The Children's Society's website
Records featured in this blog are held at The Children's Society Archive:
If you would would like to know about how The Children's Society continues to change children's lives today, visit the charity's website: http://www.childrenssociety.org.uk/
© The Children's Society