In previous posts, I've mentioned treatments and medicines that aren't so commonly used any more although they were very popular in their time. If you can remember any of these, or would like to tell us about any other common medicines or treatments that you can remember, please let us know in the comments section below.
M&B 693
In the post about influenzal colds in 1940, the medical book notes that the children were treated with 693 tablets.
693 was a name for an antibiotic medicine called sulphapyridine. It was produced by the firm May and Baker and so was often also known as M&B.
The drug was first discovered in 1937. In tests it was found to be an effective treatment for pneumonia and it was also used to treat other infections such as sore throats and gonorrhoea. In fact, it became so popular that it was widely used during the Second World War and May and Baker had trouble keeping up with wartime demand for the drug.
Famously, Winston Churchill was successfully treated with M&B when he was suffering from pneumonia in 1943 which he contracted shortly after attending the Teheran conference that finalised the strategy for the war against Nazi Germany.
693 was later superseded by penicillin and other antibiotics.
Cod liver oil
In the post about tuberculosis in the early 1900s, we find that when John was ill, but before the cause of his illness was known, he was treated with cod liver oil.
Cod liver oil contains vitamin A and vitamin D and it is still used today as a supplement to help with joint problems. In the past it was regularly given to children; this was to help prevent rickets, which was very common in the early-20th Century.
Presumably, as in the case of John, it was also seen as a cure-all that could help to relieve someone's symptoms when they were ill.
Port wine and brandy
Another treatment mentioned in the post about tuberculosis in the early 1900s is the use of port wine and brandy. When John entered a convalescent home with tuberculosis, he was prescribed port wine, brandy and a generous diet to help build up his strength.
Alcohol has been used as a medical treatment for a long time and spirits such as brandy were popular in the late-19th and early-20th Centuries. They were often used as cardiac stimulants that were thought to increase blood pressure, but some doctors used them as treatments for a whole variety of diseases.
One of the uses of brandy and other spirits was as a supposed aid to digestion and metabolism. They were often prescribed in the diets of people convalescing from illnesses and it is probably for this reason that they were prescribed for John.
Fresh air
In a number of cases we see that children convalescing from illnesses were sent out to homes in the countryside or on the coast. Several of The Children's Society's children's homes were built on the coast for this reason, such as St David's Convalescent Home in Broadstairs, Kent and St Agnes' Convalescent Home at Pevensey Bay, Sussex.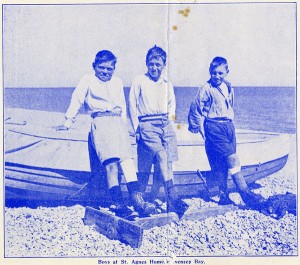 Leaving the big cities was thought to aid recovery although, interestingly, a number of children's homes in London took in children with illnesses too. This was because a stay in London meant that the child would be able to attend hospital for treatment. Often they would be sent to London for a brief period of time and then go out to the countryside once the hospital treatment was complete.
What do you remember?
Do you remember any of the treatments I've mentioned here? Please tell me in the comments. It would be interesting to find out how popular they really were.
And that's not all. I'd love to hear about other treatments and medicines that you remember. I'm sure my list is just the tip of the iceberg!