It's been a successful year here are Records and Archives Centre, with the Including the Excluded project completed and the cataloguing of even more of our collections well underway. Time, I think, for a well-deserved celebration.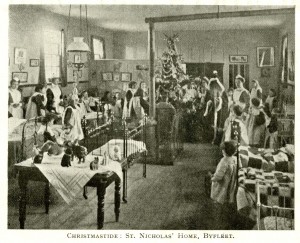 Christmas has always been a special time for The Children's Society. In the children's residential homes, staff would work hard to ensure that the children they looked after were able to fully enjoy and celebrate the season, as is evidenced by the decorations and the visit from Father Christmas in the above photo from St Nicholas' Home in Byfleet.
For more Christmas-themed images from our archive, please visit The Children's Society's main blog where our Records, Archive and Data Protection Manager, Ian Wakeling, has shared a great selection.
From everyone here at The Children's Society Records and Archives Centre, I'd like to wish you all a Merry Christmas and a Happy New Year!