Is it possible to become ill through reading too much? It's certainly something that was thought possible in Arthur's case 114 years ago.
Arthur had been living in Newbury, Berkshire, with his mother and his two younger siblings. His father had died and his mother had run away from an abusive second marriage, leaving her struggling to earn enough money to support the family by herself. We are told that her earnings came from needlework and an occasional lodger.
When Arthur was 14 years old, he was sent to the Workhouse for a fortnight, and from there, in the year 1900, an application was made for Arthur to be taken into the care of The Children's Society (then known as the Waifs and Strays Society). The reason given for sending Arthur into care is rather unusual. See the application form for yourself: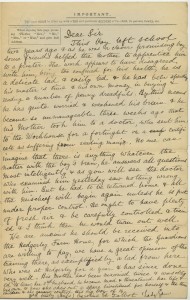 Dear Sir
This boy left school
two years ago & as he was a clever promising boy
some friends helped the mother to apprentice him
to a printer. The work appears to have disagreed
with him, being too confined for his health, he is
a delicate lad & easily led & he has been spending
his master's time & his own money in buying &
reading a number of penny dreadfuls. By this means
he has quite worried & weakened his brain & he
became so unmanageable three weeks ago that
his mother took him to a doctor, who sent him
to the Workhouse for a fortnight on a cerf certifi
cate as suffering from reading mania. No one can
imagine that there is anything whatever the
matter with the boy's brain, he answers all questions
most intelligently & as you will see the doctor
who examined him yesterday saw nothing wrong
with him. But he had to be returned home & all
the mischief will begin again unless he is put
under proper control. He ought to have plenty
of fresh air & be carefully controlled & train
ed & I think then he would turn out well.
We are anxious he should be received into
the Hedgerley Farm Home, for which the Guardians
are willing to pay, we have a great opinion of the
training there, as exemplified by a lad from here
who was at Hedgerley for a year & has since done
very well. His mother has been married twice & was oblig
ed to leave her 2nd. husband he became mad & threatened her life &
his own & now she ekes out a spare livelihood for herself & the three
children & she cannot control this big boy of 14
yrs. truly (Miss) Caroline A Talbot 'Lady Gdns [Guardians]'
I'm sure you'd agree that the main reason given here is a strange one! Nowadays, I doubt anyone would complain that a young person was reading too much. Not only that, but that 'reading mania' would be diagnosed by a doctor as a certifiable medical condition seems really quite strange over 100 years later.
An important point to note is that it is not just any books that Arthur was reading but penny dreadfuls. These books were so called because they were cheaply printed and not thought to be very good for the reader. They usually contained sensationalised, escapist stories that were popular with young people like Arthur. The fact that a doctor could diagnose Arthur as suffering from 'reading mania' suggests that penny dreadfuls were widespread enough in the early 20th Century to cause general public concern.
If this moral panic at reading sensational stories sounds a little odd to our ears, we could instead try to consider a modern equivalent. Today, for example, there is a lot of concern about video games, particularly violent ones. If a doctor in 2014 certified that a young person was suffering from some sort of mental illness brought on by playing too many violent video games, we wouldn't necessarily think it was so unusual.
After all this talk of 'reading mania', it's only when we read on to the bottom of the application form that we find what was, most probably, the real reason Arthur needed to be taken into care: his mother was trying to support three children by herself, while earning very little money. If this was the case, then why spend over half the page talking about the penny dreadfuls?
It's important, when reading this or any document, not just to take it at face value. Instead we need to consider why the document was being written and if the person writing it had an agenda that they wanted to get across. In this case, the form was an application for Arthur to be taken into the care of the Waifs and Strays Society. However, not all applications were successful; the Waifs and Strays Society only had limited funds and so weren't able to help every child that came to them. Instead, they used the application forms to decide who needed their help the most. In Arthur's case, we can almost imagine that Miss Talbot, writing the form, was really emphasising the 'reading mania' to play on social fears current at the time, which she thought would help to get Arthur accepted into care.
Whether or not the 'reading mania' played a large part when Arthur's case was considered by the Waifs and Strays Society, we don't know; but we do know that his application was successful. In February 1900, Arthur was admitted into the Hedgerley Farm Home in Buckinghamshire. This home specialised in farming and the boys living there were trained in agricultural skills. Arthur stayed in the Hedgerley Farm Home for one year, after which he returned to his mother.
Overall, the medical diagnosis of 'reading mania' probably says far more about the social fears prevalent at the time than it does about Arthur's health. What are your views on this? If penny dreadfuls were common today, do you think we'd still be worried about young people reading them?
For another example of the public fears surrounding penny dreadfuls and 'cheap literature', see this 1895 newspaper cutting at the British Library website.