The second in a three blog series – written by one of our volunteers, Rod Cooper – that takes a look at the history of 'Titania's Palace', a remarkable and long lasting fundraising initiative for The Children's Society and it's former Children's Union that Sir Neville Wilkinson started in 1907.
Commencing in 1907, the development of Sir Neville Wilkinson's Titania's Palace occurred over a period of 15 years and was evidently an expensive project. He once remarked in an issue of Brothers and Sisters – the monthly magazine of the Children's Union – that by the time his dolls' house was first presented to the paying public in 1922, there were "no funds available for a publicity campaign." Yet this wasn't an obstacle to Sir Neville, who, as remarked in Part One, was remarkably adept at generating publicity and interest in Titania's Palace. Both Sir Neville and his wife, Lady Beatrix Wilkinson, held senior and influential positions in children's charities – he as Chairman of the League of Pity (NSPCC) and Lady Beatrix as President of the Children's Union – and they were ideally placed to ensure that regular and prominently placed news and articles about Titania's Palace were conveyed to members and supporters of the two charities.
Although news regarding developments about Titania's Palace featured regularly in Brothers and Sisters, it is from early in 1922 that it took on a new intensity. In the months prior to its public unveiling at the Daily Express Woman's Exhibition at Olympia in July, there were successive lead articles and announcements regarding Titania's Palace and its fictional inhabitants. In the February 1922 issue, for example, Sir Neville – via the agency of a front page Proclamation from Queen Titania herself – invited young readers to become either "Companions (boys) or Rose-Maidens (girls)" of the Order of the Fairy Kiss:
Know ye therefore that I the said TITANIA Queen of the Fairies Sovereign of the aforesaid Most Industrious Order do by these Presents Declare and Ordain that every Human who shall duly complete and forward the Form which in accordance with Our Command has been placed at the End of the Volume entitled YVETTE IN ITALY AND TITANIA'S PALACE shall therefore become Eligible for Admission into Our aforesaid Most Industrious Order"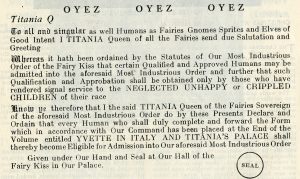 Undoubtedly, Sir Neville's appointment and experience as the Ulster King of Arms, helped him to script the proclamation and he does warn his readers beforehand that it is "a little difficult to understand, as all these documents are, because there are so many stops left out." What is clearly understandable however, was that in order to join the Order – or rather, to become eligible to join the Order – the purchase Sir Neville's book, Yvette in Italy and Titania's Palace was prerequisite.
Yvette in Italy was the first of a series of five books featuring the adventures and travels of a twelve year old girl – the eponymous Yvette – her close friend Marietta, the various friends they meet, and the guiding presence of a fatherly character called the "Painter" – a character not entirely removed from Sir Neville's himself, and mirroring his own artistic credentials. Typically based on their shared travels to wherever Titania's Palace is on display, the books are part adventure story, part fairy story – with chapters relating to Queen Titania, King Oberon and the numerous princes and princesses that live in Titania's Palace – and part travelogue. The books are educational too, and Sir Neville does not fail to provide his readers with details about the places they visit; happily describing great works of art and local history. Adding to the didactic and sometimes moralistic tone, the Painter (Sir Neville, of course) would throw in some occasionally waspish commentary. The following conversation with Yvette (as they pass through Paris, en route to Florence) provides a flavour of this:
"That's called the Colonne Vendôme," said the Painter, it was put up to celebrate the victories of the great Napoleon. It's made of the cannons he took in his wars."
"You wouldn't think when you see it now," he continued, "that not so very long ago it lay on the ground, just where we are walking, broken in pieces: for it was pulled down by people called Communists, who wanted to burn and destroy everything."
"Whatever did they want to do that for?" asked Yvette.
"It's much too difficult a question for me to answer all at once," said the Painter, smiling, "you'll find, when you grow up, that there are always foolish people who think they can only do their country good by noise and numbers."
Presumably, Sir Neville's young readers got the message. And much as he loves Italy and discoursing freely on the great artists of the Renaissance and the works of art abounding in Florence, the Painter (now referring to himself as the 'Maestro' whilst in Italy) can't entirely refrain from being critical of some local customs:
"[. . . ] For Fairies can only be happy where there are birds to sing to them."
"But why aren't there any little birds here now?" asked Marietta.
"They have nearly all been shot or trapped," said the Maestro, gravely.
"How dreadful!" said the children.
"Was it because they eat up the fruit and things?" asked Marietta.
"Partly, no doubt, because some of them fed on grain and berries, but they were killed chiefly to eat."
"What! Dear little song-birds," cried Yvette, incredulously, "tiny little things like that: they wouldn't make a mouthful."
The books are marked by numerous illustrations. There are black and photographs, featuring works of art and famous landmarks, plans and drawings, and colour reproductions of paintings; a significant number being painted by Sir Neville himself. It is perhaps because of the inclusion of so many illustrations, that the books were relatively expensive. They were initially priced at seven shillings and sixpence (i.e., almost £19 at present day prices) but were soon priced at ten shillings and sixpence.
The dedication in Yvette in Italy is to Sir Neville's and Lady Beatrix's two daughters, Guendolen and Phyllis. Of the two, Guendolen is relatively well known. It was she who first espied the fairy disappearing beneath the Mount Merrion sycamore tree that inspired Sir Neville to create Titania's Palace in the first instance. And as a young woman, Guendolen's activities on behalf of the Children's Union are featured frequently in issues of Brothers and Sisters. She appears, for example, in the photograph taken at the family's Duchess Street, Mayfair home, when Queen Mary officially 'opened' Titania's Palace. She is featured most prominently too in the September 1923 issue, where she is portrayed, rather remarkably, in the guise of the Clerk of the Crystal; the office responsible for administering membership of the Most industrious Order of the Fairy Kiss.
However, for whatever reason, the Wilkinsons were much less forthcoming about their younger daughter, Muriel Phyllis Wilkinson. She is rarely referred to in the pages of Brothers and Sisters, and the one solitary photograph of her, published in the June 1917 issue when she was about nine years old, shows her face deeply occluded by the large sun hat she is wearing.
Additionally, it is worth remarking that she didn't appear with the rest of her family in the photograph with Queen Mary, celebrating the 'opening' of Titania's Palace in 1922 . Unlike the rest of her immediate family, she is omitted too, from Sir Neville's fictional Order of the Fairy Kiss published as a New Year's Honours List in the February 1924 issue of Brothers and Sisters (Sir Neville is listed as Knight Grand Cross and Gold Pen, Lady Beatrix as a Star Matron, and Guendolen as the aforementioned Clerk of the Crystal).
Whilst there is every indication that her parents were very protective of their youngest daughter, there is some argument for suggesting that she may be the model,
for she is not dissimilar in appearance to her portrayal in a photograph retained by the National Portrait Gallery, where she is portrayed together with her older sister. The photograph was taken in March 1920, when Muriel would have been eleven or twelve years old – the same age as Yvette in Sir Neville's first book. Such is the physical similarity, is it is not too fanciful to speculate further that Sir Neville modelled Yvette on an idealised version of his youngest daughter? Of course, this is only speculation. Much as it remains an appealing hypothesis, without knowing more of the family history it is quite impossible to know with absolute certainty.
The reward for being admitted to the Order of the Fairy Kiss entitled its Companions and Rose-Maidens to visit Titania's Palace as many times as they wished and without having to pay the entrance fee – just as long as they wore their badge of office, that is. However, attaining such rank was not especially straightforward. Aside from the necessity of having to possess a copy of one of the "Yvette" series of books, those aspiring to the Order needed to complete and return the form placed at the end of the book to one of the charities supported by Sir Neville and Lady Beatrix. Only after doing this would claimants be informed as to the qualifying criteria. Perhaps this was expecting a little too much however, and as early as August 1924, the requirements were listed in Brothers and Sisters. With respect to Children's Union members, there were three possible means of attaining membership. Firstly an aspiring Companion or Rose Maiden could form a Branch in a parish or district where there was no existing Branch. Secondly, a member could demonstrate that they'd gained twelve or more new members to their Branch. Thirdly, in cases where a complete Branch had done exceptionally good work, but individual members were unable to buy a copy of Yvette in Italy, the Branch Secretary would be allowed to buy the book out of Branch funds at the end of the year, and then Branch members would vote amongst themselves to nominate the individual whose name would be placed on the application form. Whatever route was taken therefore, possession of a copy of "Yvette" – and its application form – was essential.
Sir Neville's approach to the Titania's Palace project (on reflection, almost certainly not a word he would have chosen to describe his works!) was a curious mixture of whimsy and hard-headed pragmatism. A make-believe world countered by the practical pursuit of raising funds for children's charities. Thus far, we have looked at some of the means by which Sir Neville raised awareness and interest in Titania's Palace; by ensuring constant coverage in the pages of Brothers and Sisters, authoring a series of children's books, and promoting a number of means by which the young membership of the Children's Union could become involved (to which the Badge of the Fairy Queen should be added to the Order of the Fairy Kiss). The consequences were huge interest in Titania's Palace and attendance by large numbers of paying members of the public wishing to visit the attraction. This latter aspect – Titania's Palace On The Road, if you like – plus an account of the Palace's present day whereabouts, will be covered in a further article.
Want to know more?
Further information on the Children's Union can be found in previous Hidden Lives Revealed website blogs:  https://www.hiddenlives.org.uk/blog/tag/childrens-union/
Scanned copies of the Brothers and Sisters magazine can be found here: http://www.hiddenlives.org.uk/publications/brothers_and_sisters/index.html
Records relating to Titania's Palace and the Children's Union featured in this blog are held at The Children's Society Archive:
If you would would like to know about how The Children's Society continues to change children's lives today, visit the charity's website: http://www.childrenssociety.org.uk/
© The Children's Society