On the Streets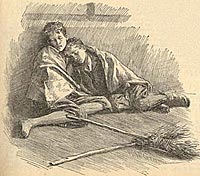 What was it like to be poor: to have no shoes, to work long hours before school, to earn a few pennies for your family, to be homeless in the city and work in dirty factories for just enough to eat?
Click on this photographs link to see photos of street children and then read the fact file and try the worksheet.
What do you think?
Why do you think people wanted to live close to where they worked?
How would working for 3 hours early in the morning affect your school work?
What kind of work do you think the boys in the drawing had been doing?
Do you think the children were bothered about getting into 'beds which were never cool'?
Printable worksheets and source material:
On the Streets:
worksheet PDF (12k) | source material PDF (160k)

In the towns everyone wanted to live near his or her work and this caused overcrowding.
Many people could not afford the rents that were being charged and so they rented out space in their rooms to one or two lodgers who paid between two pence and four pence a day.
The children played in the narrow alleys and dark staircases and had very little sunlight.
Children from poor families were sent out to work. A boy of 11 was paid 4 shillings a week to work 43 hours delivering parcels from a chemist's shop. A child of 9 delivered milk for 21 hours a week.
Some children started work at 5am and worked for 3 hours before school.
The longest hours were worked by the lather boys in the barbers' shops.
Gangs of pauper children were apprenticed in factories and worked very long hours in extremely unsanitary conditions.
This extract is from Our Waifs and Strays March 1903. 'They were fed upon the coarsest and cheapest food, often with the same as that served out to the pigs of their master. They slept by turns and in relays, in filthy beds which were never cool; for one set of children were sent to sleep in them as soon as the others had gone off to their daily or nightly toil'.