Girls at Work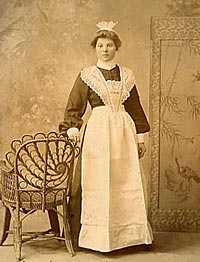 When girls left the homes they usually went into some kind of domestic service.
Find out more about laundry work by reading the fact file. Look at some original photographs then print the sources and try the worksheet.
What do you think?
Who would benefit from the money earned by doing the laundry from the local families?
If you had a choice, which of skills taught to the girls would you choose to learn? Laundry work, knitting, needlework or cooking?
Printable worksheets and source material:
Girls at work:
worksheet PDF (12k) | source material PDF (290k)

Some homes, such as the Fareham Industrial Home in Hampshire, ran commercial laundries. They trained girls in the skills of working in these laundries so that they could earn a living after they left the home.
There was always plenty of work for girls when they left the home if they had been well trained in cooking, dressmaking and laundry work.
This quote is from Our Waifs and Strays magazine in February 1885 'A year of good training under kindly, firm management, in an atmosphere of regularity, order and neatness, will probably transform the girl and alter all her future'.
As many as 20 families from the surrounding area would send their washing to be done in the laundry. This earned money for the home.
Younger girls were given the job folding wet clothes before they could be put through the mangle.
Early types of machines to help with the work were used in some homes such as spinning machines to help dry the clothes. These were turned by hand.