Another part of the 'Unexplored Riches in Medical History' project is to catalogue children's case files.
A case file was created for every child that came into the care of The Children's Society. These case files were used by The Children's Society's head office to store all their forms and correspondence relating to that child; this makes the files a great resource for researching the lives of individual children, the reasons why they came into care, what their lives were like while being looked after by The Children's Society, and where they went onto afterwards.
1850 case files have already been catalogued as part of a previous project. Now, the 'Unexplored Riches in Medical History' project aims to catalogue even more case files and so make them searchable and usable.
In terms of medical history, the case files contain a great deal of information. Application forms found within the files tend to detail the health of the child and their family as well as giving information about the child's living conditions and family circumstances. If the child became ill while in The Children's Society's care, this is often documented in the correspondence found within the case files, especially if the child was sent to hospital or to a convalescent home.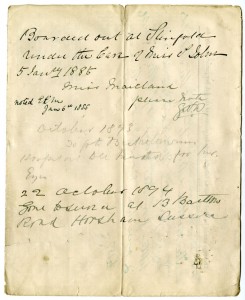 The above image comes from the application form for case file 419. On the back of each application form, the child's case history is noted, stating where the child was placed. In this image, it says that in 1893 the child entered St Bartholomew's Hospital.
The page says:
Boarded out at Slinfold
under the Care of Miss S John
5 Jan[ua]ry 1885
Miss Maitland
please note
G.N.W.
noted ERM
Jan 6th 1885
October 1893
To go to Bartholomews
Hospital to be treated for her
Eyes
22 October 1894
Gone to service at 13 Bartlour
Road Horsham Sussex
Within case file 419 there is further correspondence regarding the child's visit to hospital.
This is just one example. There are many other case files that can be used to study the history of diseases and treatments. Because of this, it is the aim of the project to catalogue and index more of our case files. The indexing in particular will make it easier to search the case files for specific topics.