The excitement of Christmas has been building, and now it is Christmas Eve.
In Ambleside the Home is decorated with "holly, evergreens and pretty coloured paper-chains" and "how often the doorbell rings, and mysterious packets arrive!"
Whilst the children sleep the staff have been busy filling stockings with "delightful and beautiful things – apples, oranges, nuts, sugar, biscuits, and toys".
The Gift Register for St Cuthbert's Home for Girls in Darlington lists 3 dozen crackers, a box of oranges, turkey, a brace of pheasants, Christmas puddings and cakes, a large box of Christmas presents, 40 bags of sweets and a Christmas tree –just a few of the goodies generously donated on the days leading up to Christmas. These would be shared out amongst the children and would go towards the delicious Christmas dinner and party that was bound to follow.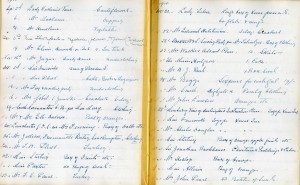 The staff would also give presents along with committee members, supporters, and people in the local community, such as the butcher. If there was a Christmas tree (these were sometimes donated as gift, as seen above!) the presents would be placed tantalizingly under it.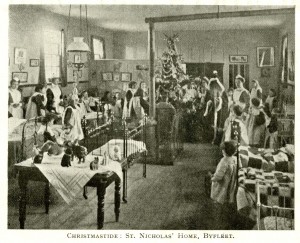 After prayers, and carols, and a church service the festivities would continue with dinner; a much looked forward to part of the day, and far from ordinary!
"Four whole turkeys with bacon galore! The former bought with special money so kindly sent for Christmas; then the Christmas pudding, of course, "all on fire" and with "something" in, which necessitated great care in eating".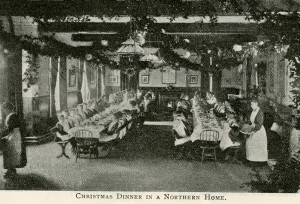 I wonder how many of us can remember something similar, or equivalent traditions, from our own Christmas or holiday celebrations?
Christmas in the Homes was a simple, happy day but it was always made to be special, with extra little treats and surprises.
(The quotes in this post come from The Children's Society supporter magazine "Our Waifs and Strays" February 1908. Click here to see more issues of "Our Waifs and Strays".)