Last week David, one of our Unexplored Riches in Medical History project volunteers, and I went on a day out to sunny Birmingham.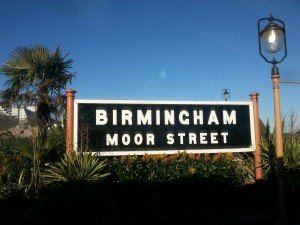 Here in Birmingham The Children's Society Volunteering Team were hosting a forum for volunteers and their managers, from across the organisation, to get together and share experiences. (As a bonus, for those of you interested in history — and puddings — the forum was held at a place called the Custard Factory, which was the home of Bird's Custard in the 19th and 20th Centuries!)
The day started with two talks. First up was Justin Davis-Smith, Executive Director of Volunteering at the National Council for Voluntary Organisations (NCVO). Justin gave us an overview of volunteering across the UK, how it is being recognised by the government and what politicians can do to help volunteering thrive even further. He also talked about exciting new developments and trends in volunteering, such as 'micro-volunteering' projects, where people can volunteer online for only 30 minutes at a time, and organised rock concerts that are used to encourage young people to give volunteering a go.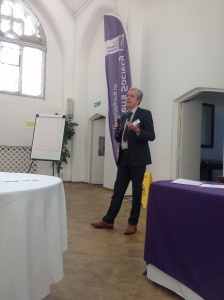 Next along was Matthew Reed, Chief Executive of The Children's Society. Matthew talked about how vital volunteers are to the work of The Children's Society and how everything we do would grind to a halt without them. Interestingly, for us archive folks, Matthew highlighted how volunteering has been at the heart of The Children's Society right from the very beginning. In 1881 our founder, Edward Rudolf, and those that helped him, gave their time freely to set up a charity to help the poor and neglected children they saw around them in Victorian Britain. What motivated them was the drive to improve the lives of children and young people; and over 130 years later, this is exactly the same force that still motivates The Children's Society and our volunteers today.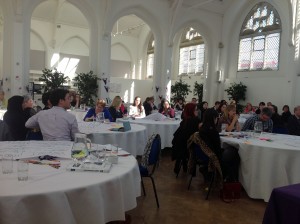 After that there were lots of opportunities for us attendees to get together and discuss how we can make volunteering at The Children's Society better. It was great to meet volunteers and volunteer managers from across the organisation and find out what they do and how they do it. And it was really useful to hear everyone's views on what they think we do well in terms of volunteering and what we still need to improve. I definitely came away with ideas to use here in the archive.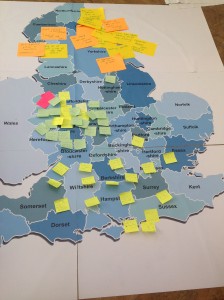 All in all it was a great day. In particular, I enjoyed talking to volunteers from all over the country and hearing what motivates them and how volunteering has changed their lives. It was inspiring stuff!
For those of you interested, we have several volunteers here at The Children's Society archive. Those volunteers involved in the Unexplored Riches in Medical History project are helping to conserve, repackage and catalogue our children's case files, ultimately making them usable for medical history research. To find out more, check out our volunteers tag on the blog.
If you're thinking you'd like to get involved with The Children's Society as a volunteer, take a look at our volunteering pages for more information on current volunteer opportunities with us and how you can help.