Today we have a guest post written by a member of our project team, Clare McMurtrie.
***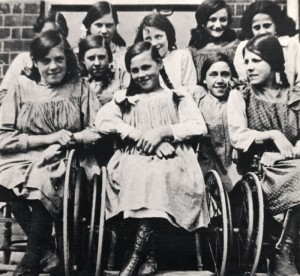 As a volunteer indexing some of the 30,000 case files at The Children's Society (previously known as the Waifs and Strays Society) and focusing on medical histories referring to children who were admitted into convalescent homes, what seems most prescient is their place in history. Travelling in an archivists' TARDIS through the case files we discover allusions to mystery diseases and children who suffered lifelong debilitating disability, many of which were unrecognised or untreatable at the time.
One of these conditions is cerebral palsy (CP), or spastic diplegia as it was commonly referred to. Historically known as Little's Disease, spastic diplegia is a form of CP, a chronic condition seen in a high and constant muscle tightness or stiffness, usually affecting the legs, hips and pelvis. Dr William John Little named the condition in the mid-1800s. His first recorded encounter with CP is reported to have been with children who displayed signs of spastic diplegia; this condition is by far the most common type of CP, occurring in around 70% of cases. Little's personal childhood experience of mumps, measles, whooping cough, polio and clubfoot (all conditions seen in The Children's Society's case files) led him to establish pioneering treatments for the condition. Some of these early treatments included the use of a wheelchair or crutches to aid movement, as well as full body braces!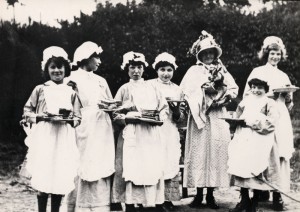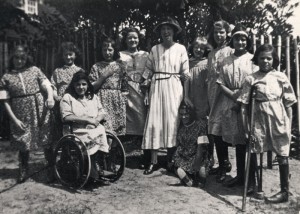 The Children's Society has six recorded cases of cerebral palsy, five of whom were received into St Nicholas' Home, West Byfleet, Surrey or to St Nicholas' Home when it later moved to Pyrford in Surrey. St Nicholas' home originally opened in Tooting in London in 1887, the year of Queen Victoria's Golden Jubilee, after founder Edward Rudolf saw a need for medical centres catering to the countries poorest children. The home moved to West Byfleet in 1893 and then to Pyrford in 1908, with the home in Pyrford also operating as a hospital. In many cases the cost and time needed to care for children with CP meant that children who otherwise would stay with their parents were taken into The Children's Society's care.
Cases resulting from poverty include Vera, whose parents also had a small baby and elderly parent to care for, and Mabel, whose father was regularly out of work and then fought France during the First World War. In other cases the loss of income of one parent, through death or absence, caused children with CP to be admitted to St Nicholas'. These include Dorothy, whose father had left, and George, Lora and Phyllis, whose fathers died, leaving families unable to keep them. In a time when men were typically the main money-earners in a household, The Society acted as a short term buffer in many of these cases, offering food and a home for the children, rather than medical treatment. In all cases the children were returned to their family after as little as a year with The Children's Society. In the case of Mabel, received into St Nicholas' in 1910, medical treatment was given at the revolutionary Great Ormond Street Hospital, twice (in 1912 and 1913), where she had an operation to straighten one of her feet. Great Ormond Street Hospital opened its doors in Bloomsbury in 1852, as The Hospital for Sick Children, and remains one of the world's leading children's hospitals.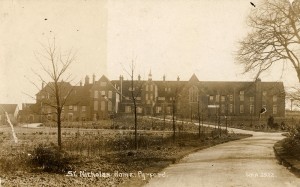 Overall the case files that refer to children with cerebral palsy reveal more of the lives of the children than of the treatments and conditions that they endured. We are left to fill in the gaps in early-20th century medical knowledge!
Find out more:
Learn more about cerebral palsy: http://www.cerebralpalsy.org.uk
Discover the more about some of the conditions and treatments mentioned in the case files: http://wellcomecollection.org
Learn about the history of Great Ormond Street Hospital: http://www.gosh.nhs.uk/about-us/our-history
Find out why a set of instruments in the Science Museum's collection is important to the history of cerebral palsy: http://www.sciencemuseum.org.uk/online_science/explore_our_collections/objects/index/smxg-96574