The scale of problems facing children in Greater Manchester are among the worst they've been in The Children's Society's 120 year-old history there. That's why this week we're launching a new way of working in the area. We are combining a local charity's responsiveness and knowledge of the community with the influence of our national organisation.
The Children's Society has been working in Greater Manchester since 1889 and our archives are full of stories and information about the history of the area. As the Explore Your Archive campaign launches this week as well, it's a great opportunity for us to showcase a timeline of our work in Greater Manchester.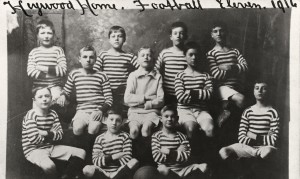 The Explore Your Archive campaign is encouraging people to discover the stories, the facts, the places and the people that are at the heart of our communities. Archives across the UK and Ireland are taking part to raise awareness of the value of archives to society and of the rich variety of content that is held, preserved and made available to users.
Here at The Children's Society we have a whole range of archives about our work in Greater Manchester. Click through to visit our interactive timeline to see some of these archival documents and to explore our history in the area.
The timeline is just the tip of the iceberg though. Our archive is full of over 130 years' worth of records about our work to improve the lives of children nationwide. That's over 130 years of fighting childhood poverty and neglect, and thousands and thousands of individual stories just waiting to be discovered.
Visit our archive website Hidden Lives Revealed to find out more.
Ian Wakeling, Head of the archive at The Children's Society said, "This archive is amazing because it gives a voice to some of the poorest and most vulnerable people in our nation's history. These are stories that are rarely told. Were Victorian families in poverty facing the same difficulties that families in poverty are today? What was it like to grow up as a child in care during the First World War? And what help was there for children who ran away from home in the 1980s? Exploring our archive will reveal the answers."
Visit our interactive timeline to discover the history of our work in Greater Manchester from 1889 onwards and find out how we are working in Greater Manchester now.
See more archives from The Children's Society and find out more about our history by visiting Hidden Lives Revealed.
To find out more about the Explore Your Archive campaign and how you can start your own adventure visit www.exploreyourarchive.org