Hello and welcome to the Including the Excluded blog. My name is Janine and I'm the archivist working on this project for The Children's Society's Records and Archives Centre.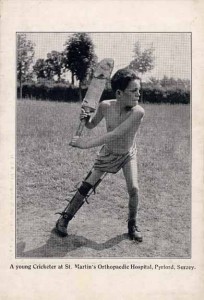 The aim of Including the Excluded is to catalogue records that relate to The Children's Society's work with disabled children. This project has been funded by the National Cataloguing Grants Programme for Archives and started when I was recruited in June 2011. It is set to run for twelve months and so will be completed in June of this year.
Including the Excluded is a wonderful opportunity to make the records of disabled children more accessible. Cataloguing and repackaging these records will help us to discover and document the information we hold, and so promote research into the care of disabled children over the past 130 years. Our aim is to make this important history more widely available, not just to academic researchers, but to everyone, including disabled children and young people themselves.
The Children's Society was founded in 1881 by Edward Rudolf, who wanted to help the vulnerable children he saw around him in Victorian Britain. In its early history, The Children's Society (then known as The Waifs and Strays Society) did this by running a network of children's homes for poor and disadvantaged children. By the mid-1970s, the work of The Children's Society had evolved away from children's homes to focus on more innovative types of social work and child care. Throughout all this, from 1881 to the present day, The Children's Society has helped disabled children, often pioneering in this field.
It is The Children's Society's influential work with disabled children that is the focus of the Including the Excluded project. Over the course of the next few months, I will be using this blog to document my progress and share some of the fascinating insights and stories that I come across while working on this project.
If you would like more information about Including the Excluded, please take a look at the project web pages.