The final collection of records that I'm cataloguing as part of the Including the Excluded project are the records of The Children's Union.
The Children's Union was a fundraising body for The Children's Society that ran from 1888 to 1979. However, unlike most fundraising bodies, the subscriptions and donations collected by the Children's Union were not given by adults, but by children and young people themselves.
When it was founded, the initial aim of the Children's Union was for children to raise enough money to sponsor one bed at the home for disabled children, St Nicholas' in Upper Tooting. This didn't last long though; by 1901, the Children's Union had become so successful that the money it raised was funding two disabled children's homes in their entirety, St Nicholas' in West Byfleet and St Martin's in Surbiton, while also giving donations to The Society's other homes for disabled children.
The link between the Children's Union and the disabled children's homes carried on right through until the 1940s when the Children's Union began to focus on supporting The Children's Society's large number of homes for babies and toddlers instead.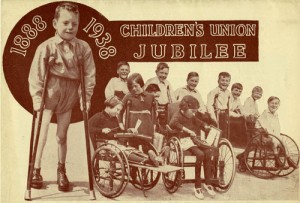 The above image shows the cover of a promotional leaflet that was created to celebrate 50 years' work of the Children's Union.
This leaflet lists some of the ways that children could raise money for the Children's Union, which included keeping a collecting box at home; doing needlework, knitting or making toys that could be sold to make money; and taking up a subscription of 'Brothers and Sisters', which was a magazine written specifically Children's Union members.
We hold a full set of 'Brothers and Sisters' magazine from 1890 to 1970 here in the archive, along with other publicity material for the Children's Union, annual reports, and more. In addition to records, we also have artefacts, including examples of some of the Children's Union's collecting boxes.
It's fascinating to see a fundraising body like this that encouraged children to raise money to help other children. The magazines and some of the promotional material in this collection can be particularly fun as they include fictional stories and other articles written to entertain their young readers.