Today marks 100 years since Britain declared war on Germany and the First World War began.
The next four years will be a time to remember and reflect on the war and all those it affected.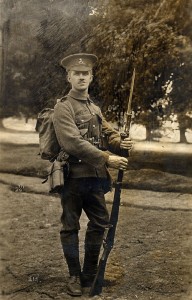 People like Thomas, who had entered the care of The Children's Society (then known as the Waifs and Strays Society) around the age of six. He lived in the Rochdale Home for Boys and left the home in 1903, when he was around 16 years old. Like so many others, Thomas joined the army and went to fight in the First World War. The above photo of Thomas was taken in 1915.
As well as those at the front, the First World War affected those at home, and the Waifs and Strays Society saw many more children coming into care as a result.
We'll be discussing some of the impacts of the war on the Waifs and Strays Society later in the week, so watch this space.