Things are rather busy here at The Children's Society Archive, as we've just returned from attending the Society for the Social History of Medicine's 2014 conference. The theme for this year's conference was Disease, Health and the State. It was held at St Anne's College in Oxford over three days, and it hosted a multitude of speakers and attendees from across the world, all of whom had an interest in medical history.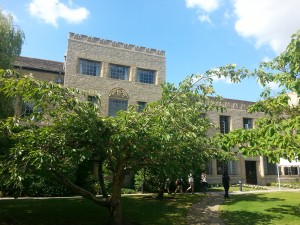 Myself and the head of The Children's Society Archive, Ian Wakeling, attended to run a stand in the conference marketplace. On our stand we had lots of information about the Unexplored Riches in Medical History project, including some facsimile case files and some posts from this blog that I'd printed out. See the stand and a few of our leaflets below.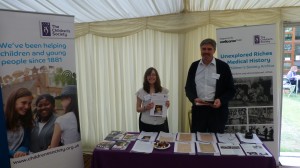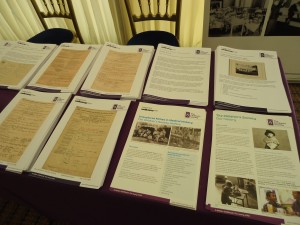 It was my first time running a stand at a conference and I have to say that I really enjoyed it. Our aim was to promote The Children's Society Archive and its wealth of medical information to the conference attendees. This was a big success. We spoke to a lot of people, most of whom hadn't heard of The Children's Society before and certainly wouldn't have realised how useful our archive is for medical history research. They all seemed to be pleasantly surprised!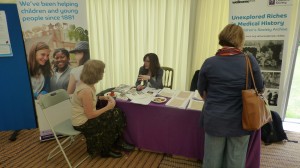 Not only were we able to give out our details to lots of people who were interested in the archive for research (for themselves or for their students, colleagues and friends), but we were also able to discuss people's research interests, which were fascinating. It was really interesting to hear about all the research into medical history that's going on, and to discuss how The Children's Society archive collection can help.
I hadn't quite realised, until I started discussing it, what a broad range of medical topics our archive covers. To help me write this blog post, while at the conference I was jotting down the subjects of all the conversations I had with attendees. It turns out that my list is so long that there's no way I can put it all down here; instead, here's just a highlight of some of the interesting topics we were talking about:
Nursing
Convalescent homes
Mental health
Hygiene
Foster care
Institutional healthcare
Rickets
Phototherapy
Diabetes
Deafness
Drug use
Funding for medical treatments
Not to mention, there were many times where we discussed how The Children's Society started and how it got to where it is now, including the whole range of records it created during that time, from children's case files to records from the individual children's homes.
I could go on for a lot longer, but I'll leave it here to say that Ian and I are both really glad that we went along. It was great to talk to medical historians about their research and introduce them to an archive that they may never have considered using before. Thanks to the conference organisers for a great event!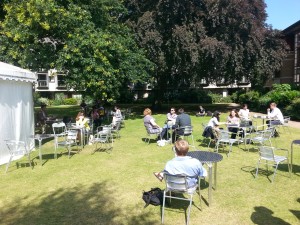 More information about the conference can be found on the 2014 conference website.
The website of the Society for the Social History of Medicine can be found here: www.sshm.org