Today I am excited to announce that I will be giving a talk about our Unexplored Riches in Medical History project at this year's Child Care History Network conference. The theme of the 2014 conference will be Healing the Wounds of Childhood – the Medical and Psychological Care of Children: Historical and Current Perspectives, and it will be held at the Buckerell Lodge Hotel in Exeter on 3 October 2014.
Click here for the conference website, where you can find the conference programme and details of how to book your place.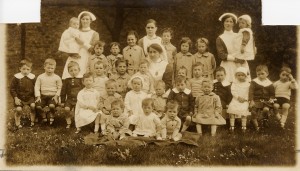 For my talk I'll be discussing the Unexplored Riches in Medical History project in more detail. As we're coming closer to the end of the project, it'll be a great chance to look at what we've achieved so far and what medical information has been unearthed in the archive of The Children's Society. I'm looking forward to sharing some of the great resources and stories we have here in our archive.
Alongside myself, there will be speakers covering various aspects of the history of children's health and healthcare. This includes keynote speaker John Stewart, Emeritus Professor of Health History at Glasgow Caledonian University, who will be talking about the history of child guidance.
For more information and to book a place, please click here.