William was five years old when his father died in in 1889. By the time William was eleven, at least three of his older siblings were working, two of his siblings were living in children's homes, and William and his younger brother Sydney were living with their mother in Stepney in East London.
Life was not easy for the family. William's mother worked by washing clothes. She had poor health, which made it difficult for her to earn much, and so William's three elder sisters, who all worked in domestic service, sent her money to help with the rent. When their mother went out to work, there was no-one to look after William and Sydney and so they were often left on their own.
In 1895 an application was made for help from The Children's Society (then known as the Waifs and Strays Society). The application was successful and William was taken into The Society's Dover Home For Boys in Kent, and was shortly afterwards transferred to Leicester Home for Boys where he would be able to learn a trade.
William had been living in the Leicester Home for about a year when he first started suffering from seizures. As a result, he was returned to London and admitted into the National Hospital for Paralysis and Epilepsy in Queen Square, where his mother was able to visit him.
After over a month in the hospital, and not having had another seizure, William went to stay with his mother. He was there for one month until he was transferred to the Diocesan Home for Boys in Cambridge, which had recently been taken over by The Society.
The following letter was written when William had been in the Cambridge Home for just two days.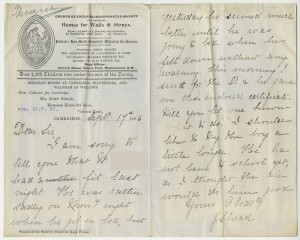 Dear Sir,
I am sorry to
tell you that W. [surname]
had another fit last
night. He was rather
sadly on Mony. [Monday] night
when he got in bed, but
yesterday he seemed much
better until he was
going to bed when he
fell down without any
warning. This morning I
sent for the Dr. & he gave
me the enclosed certificate.
Will you let me know
what to do. I should
like to try the boy a
little longer. He has
not been to school yet,
as I thought the air
would do him good.
Yours Obedily. [Obediently]
J Shead
Interestingly, from this letter we see that fresh air was thought to be helpful for people with epilepsy, and another letter states that 'In cases of Epilepsy, open air work is always recommended.'
The enclosed doctor's certificate confirmed that William was suffering from epilepsy and stated that the Cambridge Home wasn't suitable for children with the condition. It was decided, however, that William was well enough to stay in the home for longer and attend school.
William didn't suffer from another seizure until the next year, and after almost a year at the Cambridge Home, at age 13, it was decided that it would be best for William to leave. He returned to his mother in July 1897 while other arrangements were made for him. We don't know where William went to afterwards, but there was talk of sending him out of London to a farm, where it was thought that the fresh air would be beneficial for him.
It may seem strange to us now that fresh air was the recommended cure for epilepsy in William's time. But without the medication and other therapies available to us now, there must have been few options available.