To commemorate Remembrance Sunday and Remembrance Day we have a post written by one of our Archivists, Gabrielle St John-McAlister, that looks at a particular event during the First World War.
One of The Children's Society's most renowned supporters during the First World War was Herbert Horatio Kitchener, Lord Kitchener (Earl Kitchener of Khartoum, Secretary of State for War), possibly best known to the general public today as the face of the 'Your Country Needs You' recruitment poster.
To show his support he sent a telegram to the Bishop of London in May 1915, noting "I know that the Church of England Waifs and Strays Society has done and is doing good work especially by their care of the families of those who are fighting for us"; this is indicative of the high esteem in which he held the Society. His influence cannot have failed to help raise the profile of the Society and bring its needs and aims to a wider public. The Society was then known as the Church of England Society for the Provision of Homes for Waifs and Strays; in 1946, the title changed to the Church of England Children's Society.
Lord Kitchener died in June 1916 when HMS Hampshire, on which he was travelling to negotiations with Russia, hit a mine near the Orkneys and sank with the loss of almost all on board. His body was never found. Even in death there was a connection with the Society; Charles West, a Society 'Old Boy', also died on HMS Hampshire.
Almost immediately the Society began to discuss how best to show its appreciation for Kitchener's support. By June 19th, just 14 days after Kitchener's death, the Society's Executive Committee had decided that "a life so noble and an example so inspiring should have a monument entirely their own." The intention for the memorial was noted in the Executive Committee Minutes of June 1916. The idea of the Lord Kitchener Memorial Home was born and a fund to pay for its construction was begun. Lord Kitchener's sister wrote to the Executive Committee in July to express her approval of the plans. The Home, standing in an acre of land at Hillfield Avenue, Hornsey, was opened by the Duke of Connaught in July 1918, with a dedication led by the Bishop of London.
Fittingly, the Home initially took in 47 boys, all of whom had fathers killed or incapacitated in World War I, thus combining the dual purposes of remembering Kitchener and aiding the families of some of those who fell.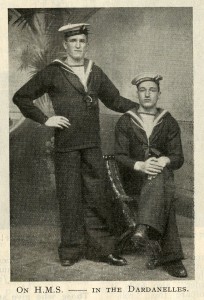 For other information about The Children's Society Archive's former children's homes, visit the Archive's 'Hidden Lives Revealed' web site: http://www.hiddenlives.org.uk/homes/
or you can consult the Archive's on-line catalogue: http://www.calmview.eu/childrensociety/Calmview
If you would would like to know about how The Children's Society continues to change children's lives today, visit the charity's website: http://www.childrenssociety.org.uk/