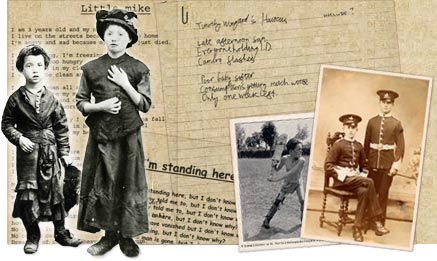 This section of the Hidden Lives Revealed website showcases some of the work produced by young people for the Young Cultural Creators (YCC) projects, and includes The Children's Society Archive documents and photographs which were used as creative inspiration.
Read more about this YCC project.
Participants in the project came from The City of London Academy (Southwark), Crown Woods School and The Charter School.
Little Mike
I am 3 years old and my name is mike I live on the streets because I got no home I'm angry and sad because my mum has just died
I'm shivering, i'm freezing I'm sooooooooo hungry I'm rotting in clothes so old I want to be clean and warm.
Read more of Little Mike.
View all poems and stories.

View the case files and photographs that were used as inspiration for the poems and stories. Case files and photographs

Julia Green writes novels for teenagers/young adults, and also stories for younger children. She is a lecturer in creative writing at Bath Spa University.
About Julia Green
What the young people said about the inspiration day.
"I liked listening to people's stories"
"I liked the pictures"
"Inspired by the writing session"